An Ode to my Brother 
31st May 2011 – following an operation
Although your life is ticking,
The clock's in fabulous form
It's innards have had an MOT
And now you're back to norm.
If I could give you stem cells,
My gift would be so sweet
By sawing off your lower limbs
And giving you dainty feet
You don't need changes to your brain
It's a wonder of the world
Bands go marching through the streets
With banners and flags unfurled
My thanks for all you've taught me
I often reminisce –
Remembering those early years
When togetherness was bliss.
Through all our tribulations
In times long past and gone
My bestest pal stays in my heart
My Hero, Brother John.
'Nickle Eck'
Epitaph to 'Nickle Eck'
19th March 2012
Remember our young years together
When the bombs rained down most of the nights?
We slept in an Anderson shelter
And the city shut down all its lights
With our gas masks and few small possessions
We travelled away from the blitz
The train it ended at Retford
Where we started to live by our wits
Then we were forever together
With you always there at my side
Your little hand entwined in mine
Which was such a comforting sign
We were not very welcome at Retford
As we managed to empty their cut
The magistrates threatened us caning
But we struggled to keep our mouths shut
We roamed in the woods and the forests
Fished for hours with little success
Scrounged for food at market stalls
To try to assuage the hunger calls
We broke old Gal Golland's greenhouse
And managed to drink all her wine
I pushed you into a pond of mud
And you were all covered in slime
Now you are the one I look up to
Your intelligence sharp deep and wide
Your acting is simply quite brilliant
And I feel for you with great pride
You must forgive my childhood pranks
Electrocution, pain and stress
For you are the brother I love the most
Who has brought me great happiness
Your forever loving brother
John
Eric was unable to read this and died on 12th April 2012
John died on 21st December 2013
****
In a sombre mood…  
The Unquiet Grave
Eric Yates
The wind doth blow today my love
And a few small drops of rain
I never had but one true love
In cold grave she was lain
The twelve months and a day being up
The dead began to speak
Oh, who sits weeping on my grave
And will not let me sleep?
You crave one kiss of my clay-cold lips
But my breath smells earthy-strong
And if you kiss my lips, my Love,
Your time might not be long
Down in yonder garden green
Love, where we used to walk
The fairest flower that 'ere was seen
Is withered to a stalk
The stalk is withered dry my love
So will our hearts decay
So make yourself content my love
'til God calls you away
**** 
In Celebration of the New Millennium
Be of Good Cheer
Somewhere, out there, someone
will hurl water at the moon
Somewhere, out there, someone
will grow a grain to feed the multitudes to come
And somewhere, out there, someone
will sing a song to comfort the lowly and
brace the strong for the next two thousand years
 Eric Yates 1999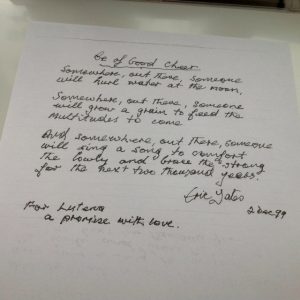 ****