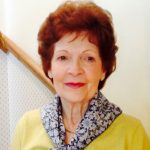 In early 2004 Eric would get up at 6 a.m. and write, bringing up with my morning tea the latest chapter of his handwritten manuscript.  I instantly realised that, as well as his high reputation for acting and mimicry, Eric had a great talent for writing and I found myself laughing out loud at the clear visual imagery he created.
At this time I consulted a spiritualist named Ann.  We had moved to Devon in 2001, very happy with our cottage and location, but we both missed the fulfilling and active life we had previously enjoyed over decades, acting and directing with amateur theatre groups in the Midlands and South East. My consultation was aimed at discovering whether we had other diversions to motivate us in the years ahead.
Almost at the end of the session Ann suddenly said 'Do you write?'  I began replying 'Well yes, but…' when she interrupted me by saying 'I see a book; do you know I think this book is going to be very successful'. She continued enthusiastically and I had to explain that it wasn't my book but I was encouraging my husband to keep writing.  I said that Eric had become depressed and, having told me he wanted to write, I had provided him with everything he needed to get started.  She ended emphatically with the words 'Do it, it must be done; do it; oh, I'm feeling quite excited!'
I realised that the book was incomplete without an introduction giving Eric's family background and his difficult childhood.  However, despite my entreaties, Eric simply could not do this as the memories were so painful, and his manuscript was put aside – although he did begin stories of his adult life based upon his National Service experiences, sadly incomplete.
Following Eric's death from cancer in April 2012 I read a feature on the writer Santa Montefiore www.santamontefiore.co.uk who described her belief in and experience of spiritualism.  As I read on, I was irritated by the 'pop up' ads on the right of the screen, until I realised they were advertising self-publishing!  The following day in the supermarket, hurrying to the checkout, I was attracted by her then latest book Secrets of the Lighthouse which I bought and thoroughly enjoyed, particularly as the storyline included spiritualism. This was the spur I'd been waiting for to devote myself to getting Eric's book published.
I then decided to approach my brother-in-law John, asking if he would be prepared to write down his childhood situation, so I could use this to complete and publish Eric's book.   John agreed to do this and eventually provided everything I needed to work on.  John went into hospital in December 2014 just as the book was due out – but by a terrible quirk of fate he succumbed to a hospital infection and never read it.